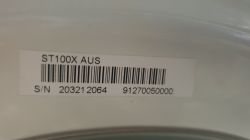 Hi Everyone,
Does someone know what the component circled on the picture is (a choke coil?, a transformer?)?
My washing machine does not get any power anymore and this component, and a few others around it, are blackened. I would like to replace this component but I'm not sure what it is, I don't know how to find it and where I can order it.
Does anyone know what the E47 x 1042 writing mean?
I've spent a couple of hours on Google searching for it but was unsuccessfull.
Thanks for your help.