Admin Stationary Security  

Many times on the forum I meet with a request to draw a diagram of connecting a given detector to a given control panel, because the instructions do not include how to do it.
Yes, the Satellite control panel manual will not find information on how to connect a DSC detector, but there is information on how to connect a Satellite detector. And that's enough. This can be done by analogy.
It is enough to know that each detector has the same and the same effect

basic contacts

, which simply depending on the manufacturer can be marked in different ways and put in different order.
Contacts that interest us
o two power contacts Here we give the correct power supply from the control panel (plus to plus, minus to minus)
o two NC tamper contacts. Shorted when the detector housing is closed and reacts by opening to open.
o two NC alarm contacts. Shorted when the detector is powered and does not detect motion, responding open to motion detection or power off.
Now let's look at a few popular models:
Satel Aqua

NC, NC alarm contacts
TMP, TMP tamper contacts
COM 12V power supply
And how do other manufacturers describe it?
DSC
(e.g. LC 104 or PIR LC 100 detector)

NC, C alarm contacts
tamper contacts T1, T2
power supply -12+
As you can see in relation to the Aqua detector, the alarm and tamper contacts have been swapped with each other. There is also another NO / EOL contact, which should not be of interest to us when connecting the detector to the control panel in a standard way.
Vidicon Bingo

RELAY alarm contacts
TAMPER tamper contacts
power contacts -12+
Again a different order, different descriptions, this time for a pair of terminals and not single ones, and this time two terminals (EOL), which remain outside the scope of our interests.
Pyronix KX15DD

ALARM alarm contacts
TAMPER tamper contacts
power contacts - and +
Bosch

NC, NC alarm contacts
T, T tamper contacts
power supply - and +

Which way to connect the detector to the control panel, and how to do it
As you will notice, the instructions contain several different examples for connecting detectors. If your control panel supports this parameterization method (DEOL), then forget about NO, NC, EOL. (below is the diagram from the Satel CA 5 control panel installation manual)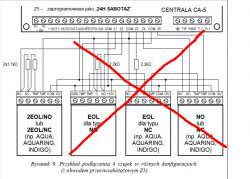 Advantages of DEOL (2EOL)
o With the detector connected in this configuration, the control panel detects three states on one line: normal state, violations and tamper.
o The status of the zone on which the detector is connected is monitored all the time regardless of whether the system is armed or not. It should be known that the control panel will detect and report as tamper not only the detector opening, but also damage (interruption or short circuit) of the cable to which the detector with the control panel is connected.
o We save control panel lines by providing alarm and tamper signaling on one line.
Initially, connecting the detector in the DEOL (or 2EOL) configuration to the control panel may seem complicated. Nothing could be more wrong. It should be remembered only that one resistor connects one of the tamper contacts with the alarm contact, and the other one is parallel to the alarm contacts. You will find out about the benefits of such a system by quickly diagnosing faults during the installation of the system and its operation. To facilitate, manufacturers are increasingly building resistors into detectors and all you need to do is to postpone the appropriate jumpers during installation, remembering not to use both methods at once, i.e. do not put jumpers in DEOL and not give external resistors at the same time.
Examples. In both cases pay attention to the position of the parameterization jumpers (circled in red)
Connecting the Satel Graphite detector in DEOL using built-in resistors. Jumpers set in DEOL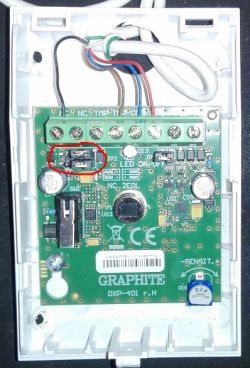 Connecting the Satel Graphite detector in DEOL using external resistors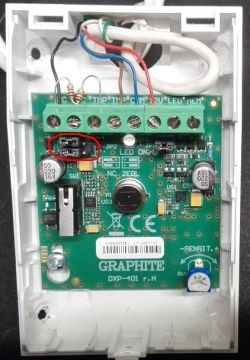 Preparation of resistors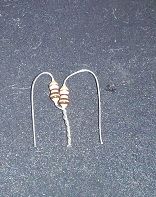 What we set on the control panel side:
o Input type. (its parameterization) The same as set with resistors in the detector. In our case it will be DEOL NC (in the case of control panels that provide DEOL NC and DEOL NO configuration) or simply DEOL in the case of other control panels.
o Appropriate reaction type.
o If the detector is connected not directly to the control panel board, but to the zone expansion module, then make sure it has been properly added to the control panel. What range of zone numbers does it support.
These are, of course, basic zone settings sufficient to test whether the detector has been properly connected. However, it is not always sufficient for the control panel to work as intended. But here I am already referring to the instructions.
Notes / FAQ
o DEOL = 2EOL. It's exactly the same.
o In the attached photos you can see stuck wires in the detectors. This does not look too elegant, but in this way I wanted to draw your attention not to cut free veins and leave a supply of wire in the detector.
o DEOL parameterization can also be used when connecting detectors that do not have tamper contacts (eg most reed switches). This makes sense because, as I wrote earlier, sabotage is not only opening the device, but also damage (short circuit, break) on the wires.
o DEOL parameterization is not supported in principle only by very old control panels. But there are exceptions. Among those designed in this century that do not support this parameterization, first of all Satel Micra should be mentioned. It is not without reason that installers prefer to stick to the name: "Communication module with the control panel option" We will not use DEOL parameterization by connecting detectors directly to the communication module. But here there are exceptions that give such a possibility, such as Genevo GSM-8.
o In detectors we use resistors (of such values) as imposed by the control panel. Although in most popular control panels from manufacturers such as Satel, Genevo, Ropam, 1.1 k resistors are used for DEOL parameterization, but there are also control panels based on 2.2k (Risco) or 5.6k (DSC) resistors. In practice, this means that by connecting a Satellite detector, e.g. Graphite, to the DSC control panel, we will not use the built-in resistors, and we will have to use those attached to the control panel. Of course, the method of assembly will be the same. However, we will use the built-in resistors in the Satellite detector, e.g. Graphite, connecting it to the Genevo or Ropam control panel.
o When choosing a given detector parameterization (eg DEOL), remember to choose the same parameterization in the settings of the given control panel zone.
o If the detector reports tamper during violation (motion detection), it usually means that incorrect resistors were used, the resistors were inserted into these terminals, and the resistor legs were not well seated in the detector connectors.
o If the detector is still violated, we check first that it has been properly powered up.
o In more advanced exchanges, such as, for example, all "+" integrals, you will also come across something like TEOL (3EOL). It is nothing more than parameterization using 3 resistors, where the control panel detects one more state. This is used, for example, when connecting detectors with anti-masking (by the way I suggest you be interested in detectors equipped with this function). The control panel zone working in this mode detects next to tamper, violation, normal status, and detector masking. In control panels that do not support TEOL parameterization, the detector anti-masking output is simply connected to a separate control panel input.
Good luck!
.................................................. ..........................
Advertisement
Also read:
How to connect two alarm detectors on one cable. How to connect two detectors to one control panel input and what are the consequences of this?
A collection of topics
We invite you to familiarize yourself with other guides, featured topics, articles on security systems such as intercoms, gate and barrier automation, alarm systems, cameras, access control:
Guides on security systems
If the above topics do not find the answer to your question, please visit the forum:
Security Systems
We also encourage you to visit the General Guides section, where you will find materials from other sections of the forum, including those starting their adventure with electronics:
General Guides