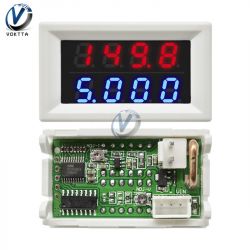 Hello all.
Some time ago I bought a LED current and voltage meter (4 bit, 0-100V, 0-10A) on the Chinese website. According to the description, it was to provide values with a frequency of 3 times per second. It turned out differently, i.e. he gave them less than once per second, which was unacceptable for my applications.
The meter is built on the HC32F003 processor. On Chinese websites I found full documentation, SDK and utilities for this processor. I decided to play with him.
Attempting to connect with the SWD connector has failed. This should have been done using the serial port. It worked, but the flash could not be read - it was secure. So one thing remained - delete the flash and write the software from scratch, which I also did. By the way, I modified the circuit to measure 0-30V. Wiring diagram: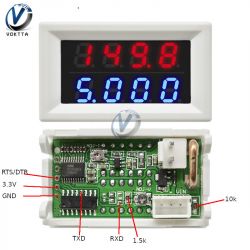 What difficulties did I encounter? A dedicated program did not detect my processor on any USB adapter - serial (I tried on PL2303 and CH340). The FlyMcu program detected the PL2303 chip, but I can't remember why I didn't use it to delete the chip (it didn't allow it?). Eventually, I deleted flash on a Linux computer with a Python program. Now I had full access to the CPU. I programmed and debugged it through the already active SWD port using J-Link (how to make a J-Link adapter with Blue Pill can be found in the network).
As a result of my scribble (I am not a programmer) I have a meter that gives values very quickly and does it more accurately than on the original software. The measurement frequency can be modified by changing the byte in the flash.bin file under the offset 0xbee (in the range 1-255).
Included software and flash batch.
Cool?
Ranking DIY