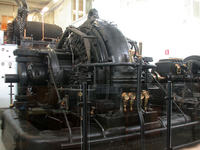 From the electronics archive - Electromechanical VLF transmitter
Can the generator transmit? The antenna can transmit by radiating RF energy delivered by the transmitter in the form of electromagnetic waves. The transmitter output signal can be modulated both in amplitude and frequency, which allows information to be transmitted via radio.
Can a generator be a transmitter? An alternator can supply energy in the form of alternating current. It is easy to imagine a device delivering 50 Hz alternating current, a frequency much lower than the radio frequencies known today. It would be quite difficult to build an antenna system that works effectively at 50Hz (although ELF (Extreme Low Frequency) 3-30Hz and SLF (Super Low Frequency) 30-300Hz were used for communication with submarines, which required MW power).

VLF (Very Low Frequency) range 3-30kHz
You will not find the VLF band in a typical radio receiver, but in the past this band was used, for example, for telegraph communication. Today, there is still a transmitter that uses an electromechanical generator that uses an Alexanderson alternator. In Poland, there was the Transatlantic Radiotelegraphic Center in Warsaw, which also based its operation on a generator in the form of a high-frequency generator.
SAQ Grimeton station near Varberg in Sweden - 17.2 kHz
It is easy to calculate that a 50Hz 3000 rpm generator would have to rotate 344 times faster, which is rather difficult to achieve. Alexanderson's alternator had an appropriate design allowing for operation at a higher frequency and at a lower rotational speed (a large number of pole pairs). Alexanderson's generator was powered by an electric motor equipped with a gear increasing the speed of rotation. The transmitter in Grimeton reached a power of 200 kW, it used a 1.9 km long antenna suspended on six 127 m steel masts. The station was one of eighteen transmitters making up the global communication network.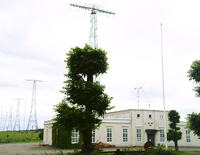 The "RF" energy was modulated with a magnetic amplifier controlled by a relay and a telegraph key. The transmitter is activated on Christmas Eve and usually on Alexanderson's Day (last Sunday in June or first Sunday in July, whichever is closer to July 2).
You can get a QSL card for confirmation of transmission receipt.
Interestingly - you can also build a receiver using an electromechanical oscillator:
http://www.wireless.org.uk/mechrx.htm
However, this is more of a hobby than a practical project.
We are witnessing the rapid development of technology, it is already hard to believe that there used to be 200kW radio transmitters that did not use lamps or transistors in the transmitter's RF circuit.
SAQ transmitter generator frequency tuning:
The next additional broadcast on February 13, 2015. at 15:00 UTC
http://alexander.n.se/evenemang/world-radio-day-transmission/
Will you try to receive the SAQ transmission?
Sources:
http://alexander.n.se/in-english/
http://www.grimetonradio.se/index.php/english
http://www.vlf.it
http://pl.wikipedia.org/wiki/Alternator_Alexandersona
http://pl.wikipedia.org/wiki/Radiostacja_Varberg_w_Grimeton
Cool?
Ranking DIY