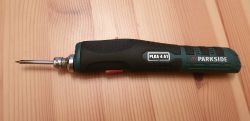 Last year I bought a parkside plka 4A1 cordless soldering iron in lidl. The device is quite handy, although only thin wires could be soldered. After a few uses, the tip stopped heating up, unfortunately it is pressed with the E10 shaft. The wire inside is damaged because after time the "construction" breaks into two parts. I wanted to buy a new tip, but I found out that this is the Achilles' heel of this soldering iron. The tip is available in the German manufacturer's store, for half the price of a soldering iron, and after some time the problem will probably return. Original tip: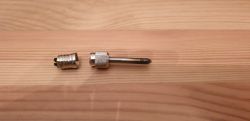 I came up with the idea of using a tip from a usb soldering iron (price about PLN 6) and building a replaceable handle with the option of replacing the tip when it gets damaged. I used a bicycle light bulb for my construction - I dug out the whole center with a dremel so that only the "thread" remained. The next element was the F plug connector (barrel). I trimmed it so that the tip wasn't too long, additionally I removed the plastic center. Unfortunately, at this stage, the tip went through the center of the barrel. In order to eliminate this problem, I added two washers. I screwed the barrel into the light bulb, and glued it with metal glue. I pulled a thin wire through the middle, soldered it to the thread of the light bulb and on the other side I put a heat shrink to the usb + tip. I twisted the whole thing with a nut from the F plug. It takes a few seconds to heat up. I didn't feel any difference compared to the original tip.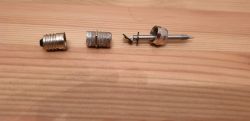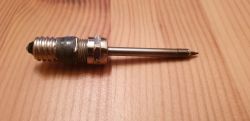 Now tip replacement is quick and, most importantly, cheap. The whole structure did not exceed PLN 10.
Cool?
Ranking DIY