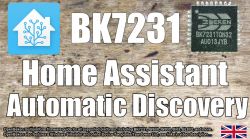 Here's a short video guide showing the automatic Home Assistant Discovery process for BK7231 (T and N), BL602, W800/W801, W600/W601 and XR809 devices in OpenBeken firmware. Automatic Discovery allows you to easily pair your device with Home Assistant, without having to write any YAML code. Everything is done with one button click and your device just shows up in Home Assistant, alongside with all it's relays, LED controls (if available) and sensors (for example, DHT temperature/humidity sensor or BL0942 power metering sensor.
Tutorial assumes that you have already OpenBeken installed. If not, please watch our "how to change firmware" videos:
https://www.youtube.com/@elektrodacom
Remember to visit OBK supported devices list and home page:
https://openbekeniot.github.io/webapp/devicesList.html
https://github.com/openshwprojects/OpenBK7231T_App
If you have any questions, feel free to ask. We're here to help you get your devices running 100% local and cloud-free!
Cool?
Ranking DIY