I saw the UT210E multimeter at the BMS and IDS installer. Although it was the first time it was used in the field, some conclusions were drawn. I borrowed a quick test meter and the device has some convenient features:
- allows you to determine the presence and direction of 10mA currents without disconnecting the circuit (clamps range 2A DC)
- the shape of the meter makes it easy to fit in a pocket
- when measuring voltage, the multimeter can be hung on the clamp
- NCV - detection of live wires
- backlit display
- 2xAAA power supply
- capacity measurement
It would be ideal if the multimeter could fit an LED flashlight, a pair finder and a LAN tester with a detachable generator, but then it would probably be difficult to keep the current dimensions.
For small current values, in the order of several milliamperes, the measurement is approximate, but it can be useful in identifying cables.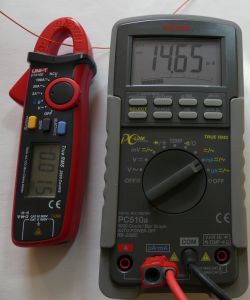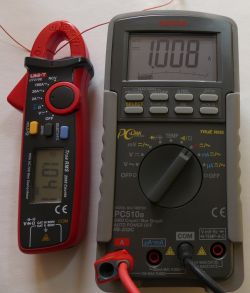 Live wire detector:
[movie: 49d538a073]
https://filmy.elektroda.pl/40_1518887474.mp4
[/ movie: 49d538a073]
Display backlight is average but helpful: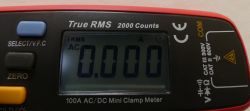 The multimeter allows you to measure capacitance, which is rarely useful for installation work, but sometimes it can be useful when examining a capricious bus: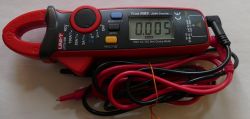 Measuring ranges:
DCV 200.0mV, 2.000V, 20.00V, 200.0V, 600V
ACV 2.000V, 20.00V, 200.0V, 600V
DCA 2.000A, 20.00A, 100.0A
ACA 2.000A, 20.00A, 100.0A
R 200.0om, 2.000m, 20.00mom, 2.000Mom, 20.00Mom
C 2.000nF, 20.00nF - 200.0uF, 2.000mF - 20.00mF
Diode and continuity test
Do you use tools that work well for installation work? What are the device models?
Cool?
Ranking DIY