damage to the foil capacitor
MKP X2 330nF. The capacitor lost its original capacity and at 160nF the power supply to the system was not correct. In newer devices (eg Sonoff) we can find impulse power supplies, in which electrolytic capacitors or SMPS control keys / circuits are damaged. In the case of foil capacitors, probably most of us have heard about their ability to do
self-regeneration
(depending on the type of capacitor). The breakdown of the dielectric leads to a short circuit and local evaporation of the conductive layer sprayed on the foil, when the layer evaporates, the short circuit is resolved simultaneously. The design of the foil capacitor was visible in old foil capacitors, where there was no casing around the rolled foil constituting a dielectric surrounded by conductive covers on both sides.
However, can such phenomena reduce capacity by nearly 50%? Looking for information about the reasons for the loss of capacity by the MKT and MKP film capacitors, I found the page
link
where can you find out that foil capacitors are getting damaged by
corona discharges
. Corona discharge occurs due to air getting between the foil and the sputtering aluminum covers of the capacitor. The loss of the capacitance of the capacitor reduces the current efficiency of the transformerless power supply, the output voltage is reduced and, for example, the device resets or the relay that requires more power to operate cannot be switched on. The yellow capacitor casings of the timer and power meter are visible below:
Film capacitors can also be found in anti-interference filters. The capacitors connected between the phase (L) and neutral (N) conductors will be marked with X (in the example X2 - the number indicates the voltage withstand). In anti-interference filters, you will also find capacitors marked as Y, they are connected between the work conductor and the protective conductor.
Measuring the capacity of a damaged and new capacitor that will be installed to repair a wireless outlet:
Let's see what the damage inside the capacitor looks like,
first the fight with the housing: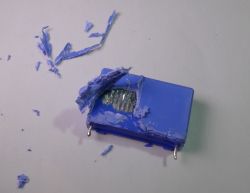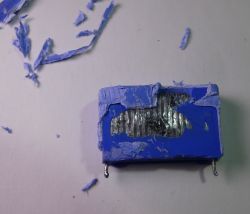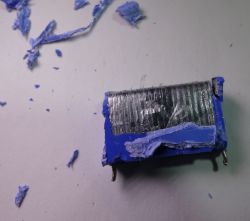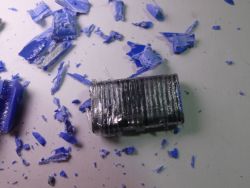 We unfold the capacitor and you can see the remains of the sputtered conductive layer: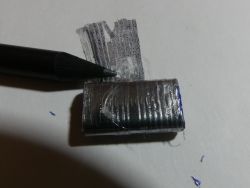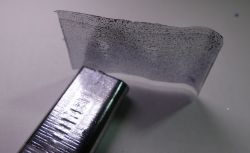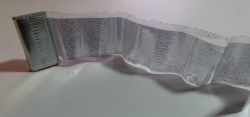 It turns out, however, that this is the beginning of the capacitor and this "launch tube" constitutes some kind of protective / insulating layer, the last turns of the capacitor look the same. As we expand more, the layer becomes darker.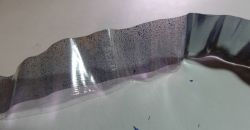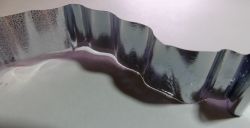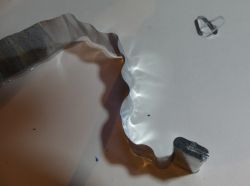 When we highlight the foil, it turns out that there are visible damages similar to those found in the article. Damage occurs practically along the entire length of the foil.
I started to wonder if this is really damage, or maybe an imperfect sputtering process, or maybe it is me who cyclically damage the metallization by unwinding the capacitor?
I decided to develop a functional capacitor desoldered from another device.
Initially, we have a "starter" foil:
Then uniform metallization appears:
This confirms that the found article rightly identified the cause of damage to the foil capacitors, the progressive degradation of the sputtered conductive layer lowers the capacitance of the capacitor.
Have you come across damage to the MKT / MKP foil capacitors, in what devices?
Source:
https://gideonlabs.com/posts/ic-emi-mkp-33uf-film-capacitors-failures/
https://www.ecicaps.com/tech-tools/technical-...failures-metallized-polypropylene-capacitors/
Cool?
Ranking DIY