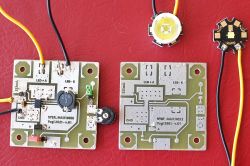 Some time ago I made a bicycle lamp powered by a bicycle hub dynamo. As such a dynamo in an unloaded state can generate definitely high voltages (up to 100V according to a German source), I was looking for a converter that can withstand high voltages. The choice fell on the chip from Maxim MAX16822 (V
MAX
= 65V) supplying the diode with a constant current up to 350 mA. This chip is manufactured in a hobbyist-friendly SOIC-08 housing without a thermal pad underneath, in a word, it is nice to install.
Today I present
a new version of this lamp
(intended for city asphalts and bicycle paths)
adapted to be powered by a battery
with a constant voltage in the range of 7-65V. Additionally, it can power more than one Power LED (1W), I tested 1-3 such LEDs. Maybe the schematic and PCB first: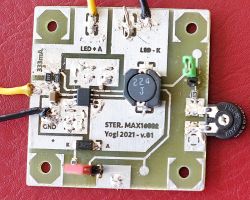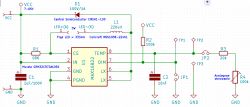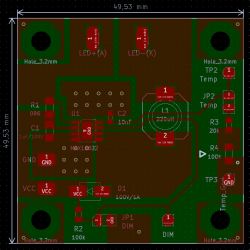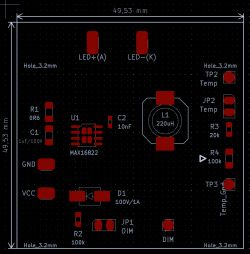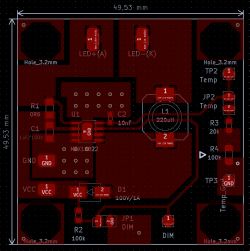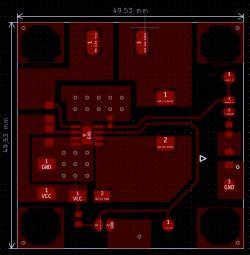 PCB is double-layer, the Bottom layer is a spilled mass that also acts as a heat sink. The emitted amount of heat is not frighteningly large, but with 2-3 LEDs it can heat up the circuit well without proper heat dissipation on the PCB. According to the manufacturer, at 165 ° C there is a sudden current limitation (thermal protection). I have never seen such a mode in practice.
The system is interesting because in addition to determining the maximum current supplied to the diode (according to the note 0R6 it gives a diode current of 333 mA, in my example I used a 0R64 resistor which theoretically gave a diode current of 310 mA), you can control the brightness using the PWM input (standard in these applications). However, in the case of a higher supply voltage (eg 60V) it is difficult to find a small stabilizer to power the microcontroller (eg Attiny13) generating the PWM signal. And here it turned out that a trick can be used to analogously limit the diode current. It is enough to connect the temperature control input to ground through a resistor, which will reduce the diode current (external thermal protection). The diagram shows a 20 k? resistor and a 100 k? potentiometer, thanks to which we can adjust the brightness of the LED diode in a fairly wide range. During the tests, I came to the conclusion that this 20 k? resistor is enough, and the outputs for the 100 k? potentiometer / resistor can be shorted - we will then get the reduced diode brightness mode. Removal of the green jumper returns the LED to full brightness mode. On the other hand, giving the low state to the PWM input causes the LED to go out (let's call it the "Sleep" mode), then the current consumption is around 1 mA.
What does it all mean? First of all, we have a simple circuit that can power 1, 2, 3 and maybe more Power LEDs (study the datasheet). Second, the logic switch is a simple jumper (or a small contact switch). Third, we can just as easily set two levels of brightness, e.g.. light for the bike path and light for slightly darker corners. We might as well imagine a red rear light with a brake light option - just install the microswitch in the brake levers or on the brakes themselves. There is no need to use an additional PWM system, although it can of course be done (and obtain e.g. orange hazard lights).
Now for some quick measurements.
1. 50V power supply, 1 LED 1W - 145 lm.
AT
LED
= 2.78 V (U
LED LOW
= 2.57 V) - voltage across the LED
AND
LED
= 317.3 mA (I.
LED LOW
= 17.12 mA) - LED currents
AND
INPUT
= 26.58 mA (I
INPUT LOW
= 3.25 mA) - current drawn from the battery
AND
SLEEP
= 0.81 mA (I
SLEEP LOW
= 1.03 mA) - current consumption in "Sleep" mode
2. 50V power supply, 2 LEDs 1W in series - 290 lm.
AT
LED
= 5.51 V (U
LED LOW
= 5.13V)
AND
LED
= 318 mA (I
LED LOW
= 16.6 mA)
AND
INPUT
= 45.2 mA (I
INPUT LOW
= 5 mA)
AND
SLEEP
= 0.81 mA (I
SLEEP LOW
= 1.03 mA)
3. 50V power supply, 3 LEDs 1W in series - 430 lm.
AT
LED
= 8.27 V (U
LED LOW
= 7.70 V)
AND
LED
= 319.6 mA (I.
LED LOW
= 15.54 mA)
AND
INPUT
= 63.8 mA (I
INPUT LOW
= 6.64 mA)
AND
SLEEP
= 0.81 mA (I
SLEEP LOW
= 1.03 mA)
The "LOW" mode is simply a green jumper closed. The "SLEEP" mode is a closed red jumper (low state on PWM input). As you can see, the power consumption is perfectly acceptable. The system is suitable, among others for use on e-bikes up to 60V, I tested it successfully with 54V.
Soon I will add measurements for lower supply voltages.
It is worth using interesting Power LED diodes (eg Cree XP-G3 with a brightness of 164 lm / 350 mA) with directional optics so as not to dazzle cyclists and walkers approaching from the opposite direction (round optics 7 ° plus the second elliptical ? 7 °). The effect is really good. Nevertheless, I am already announcing a slightly more powerful, three-diode version of the lamp (current approx. 870 mA - over 1200 lm), I plan to build and test such a module in the near future.
Cool?
Ranking DIY