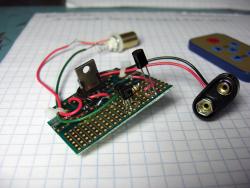 How to have fun at the expense of the neighbors ... make yourself a gun to turn off the TV sets in the estate. The recipe, as usual, came up with a fan of unusual solutions and posted the guide on the Internet. So you can construct... from binoculars and a special universal remote control, a machine to disarm televisions from a distance. The purpose of binoculars is to increase the range of our pilot. Details can be seen at the address at the end - according to the creator - he came up with it when the neighbors made too much noise with the RTV equipment ;)
Demonstration video:
[GVideo]
http://video.google.pl/videoplay?docid=7206050074057597908&q=electronics
[/ GVideo]
Layout photos and diagram (click to enlarge):
I don't think I need to translate the signatures with such a simple scheme?
Source: http://imakeprojects.com/projects/tvsniper/
Cool?
Ranking DIY