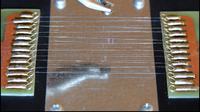 Hello!
1. What is this?
The detector I want to introduce to you is a simple device that allows the detection of alpha particles in the air at atmospheric pressure. It consists of two parallel electrodes: one in the form of a metal plate and the other made of thin wires. As I mentioned earlier, this type of detector is only sensitive to ? radiation, which is why it can be used as a measure of the activity of radioactive elements in this range.
2. How it works
During detector operation, high voltage (slightly below breakdown voltage) is applied to the electrodes. The active area of the detector is in close proximity to the wire electrodes. Alpha particles passing through such an area cause the formation of a sufficiently large amount of free charges for an avalanche (electric) breakdown to occur. As a result, the alpha particle in the detector leaves a trace in the form of audible and visible sparks to the naked eye.
Construction
1) HV power supply - electronic part
Necessarily regulated, giving about 4-5kV output. The current efficiency of the power supply should be large enough to be able to maintain the current resulting from a corona discharge. In the design of my power supply I used a CCFL converter (on the ~ 1kV output) on the input, which I placed an adjustable voltage stabilizer (LM317). The voltage output from the inverter is further increased by a four-stage voltage multiplier. The whole is powered by 12V. The design with a linear stabilizer is simple but terribly coarse. A fairly large 0.6A current flows through the stabilizer, so you must give a radiator. A much better idea is to use a lowering impulse stabilizer. The diodes working in the voltage multiplier cooperating with the CCFL converter should be fairly fast and withstand high back-up voltages (at least 1.5kV). I used the "GP02-20" diode.
2) Detector
When it comes to the design of the detector, the key is the thickness of the wires. They should be very thin otherwise the device will not work at all. In my construction I used tungsten wires with a diameter of ~ 0.1mm. An important factor is also the smoothness of the structure, no wire bends or scratches on the sheet. This greatly facilitates voltage regulation.
3) Pictures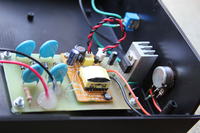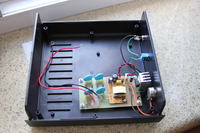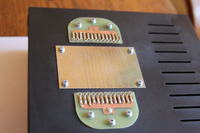 4) Movies
Cool?
Ranking DIY