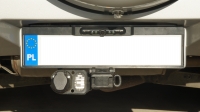 Commercially available reversing cameras nicely fitted into the license plate frame have in most cases auxiliary lines determining the distance when reversing.
Some time ago I also bought a camera that I had in my car. The camera was connected to a multimedia radio.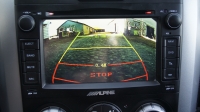 After selling the radio, I decided to adapt the camera for other purposes - put it on the back of the tractor. This is very useful because it relieves the operator during work from constantly turning backwards and looking at the machine. As the license plate in my tractor is mounted in the middle of the roof, the camera in the frame fitted perfectly.
Only the problem of the distance measurement line and the flashing STOP text at the bottom remained, which in this case were unnecessary.
A separate integrated circuit is used to create an additional line image in the cameras.
After unscrewing the camera plate looked like the picture below: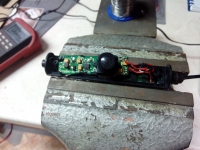 In the case of my camera it was a processor from the ATMEL family. To remove the auxiliary lines, one of the system leads had to be desoldered from the board. In the figure below I have marked which leg is concerned.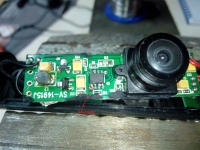 As you can see below, after such a procedure we already have the image with the MIRROR function that I wanted.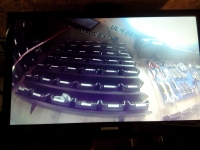 Cool!
Ranking DIY