Hello,
The construction that I want to describe here is a modification of the existing solution, and the topic serves to convey the idea and provoke discussion about this solution.
I have a CNC milling machine of my own design, in which the drive is transmitted using trapezoidal screws (a simple, popular and relatively cheap solution). In order to remove the slack on the screw, I originally used 2 nuts countered and twisted in the mounting.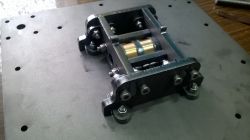 This system worked very well and ... very briefly. Although at the beginning I was satisfied with this solution, convinced that clearance would not be necessary too often, I did not foresee quick access to the nuts. Despite the fact that the milling machine is easily unscrewed, clearance of the slack is troublesome, and after making some small details the measured slack was 0.1mm !!!
On the network I often found ways to automatically clear slack by putting a strong spring between the nuts.
But it doesn't make sense! Why does everyone duplicate it, it doesn't work, the first thought is that in order for the erasing to work, the spring should push the nuts with a force greater than the force during machining.
Winter came and again the motivation to play CNC came again, so I quickly came up with a way to clear slack. A very quick way, the first that came to my mind. I searched the internet, but I didn't find a similar solution anywhere. Maybe my idea has a big drawback that I don't notice now. Hence, I decided to provoke a discussion on this topic.
The idea is to fasten one of the nuts firmly and force the other nut to rotate through the spring. By turning, the nut counteracts both nuts between the walls on the screw. In this way, the clearance is automatically erased and the nuts are rigidly fixed.
Below are some photos and a film from the clearance measurement (0.01 mm).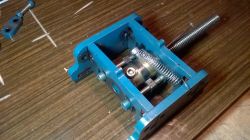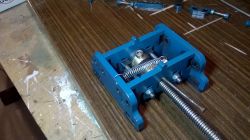 Cool?
Ranking DIY