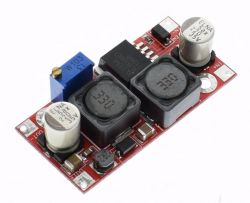 I would like to share a fact related to the popular converter based on the XL6009, as in the attached photo. Its basic parameters are:
- input voltage 3.8-30V,
- adjustable output voltage 1.25-35V,
- output current 3A (heater option
).
I do not know if I came across such a series (I once bought a dozen) or if all of them have it, but there is a very dangerous problem associated with it. Theoretically, everything works beautifully, when I set the output voltage, e.g. 12V, it is quite solidly maintained, regardless of whether the input is higher or lower ... Well, is it really ok with the lower one?
When operating with the voltage range given above, in fact everything is ok, but if we go even lower, we will be surprised ... I found it by accident, playing with the power supply with the mentioned converter connected. Well, when the supply voltage drops below 3.5V (I do not give hundredths on purpose, because there may be a dispersion of parameters depending on the copy), the system for a moment starts to oscillate (very low frequency), which lasts for about 2-3 hundredths volt then at 3.4V ... hop ...
and we have a little over 54V at the output !!!
The converter when idle took some single milliamperes, yes
now consumes 400mA (!)
. We lower the voltage further and at some point it begins to slowly drop at the output, to finish the work with an input voltage of about 2.7V (also preceded by oscillations).
Another test - I loaded the output with a 1k resistor. The maximum voltage with it was just over 20V, and the resistor turned into a heater.
Is there anything to be afraid of? Probably yes, but ... what I noticed ... In normal operation, when we disconnect the power from it and the inverter is still running on the energy stored in the capacitor, the problem does not occur at all, so when should you be afraid? And then, if someone connects, for example, a Li-Ion battery (3.7V) under it, and it discharges during operation, or if someone tries to power it from 2-3 batteries of sticks, which may also be a little bit here when discharged make trouble (actually they are not to blame
). Just
the converter "hangs" only when the input voltage remains within 2.7V-3.5V
and it is so efficient that it allows the converter to "bounce".
I think that this little info may be useful to someone if he suddenly finds that his device has gone up in smoke, and the inverter, after a quick inspection, will not admit that it is guilty.
Cool?
Ranking DIY