TABSIOR

wrote: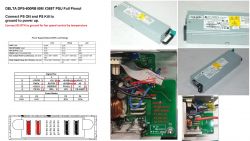 I am adding the written signals of the tape connecting the power supply with the contact panel. Maybe it will be useful to someone.
The panel is the only place that connects the ground to the housing.
When connecting the power supplies in series, it may be necessary to disconnect the housing from the ground.
On a trial basis, I found the RS RTN signal which, when connected to ground, slows down the fan. When the power supply is heated with a dryer, the fan speeds up, so the speed control system seems to work. But I have not found a description of the RS RTN signal anywhere - maybe someone knows what it is?