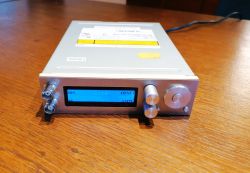 I have been using the Chinese DDS generator module for some time, I got tired of the makeshift of this device, the lack of a housing, a spider power supply from some li-ion batteries and converters, so I decided to sort it out inspired by previous publications on the electrode.
Having some time and electro-scrap metal, I made the housing using metal sheets and a front from a CD-ROM drive. I cut out the dibond front panel and glued it to the converted front of the drive.
Originally, for menu navigation, I wanted to use ready-made keys from recycled material, but they turned out to be flimsy and I made the ring, keys and knobs by turning from aluminum. The + 12V, -12V, + 5V power supply was made on a universal laminate using LM 78XX and LM7912 stabilizers and a 2x12V transformer. Having little space on the front panel where only a small key can fit, I placed the power switch on the back next to the transformer. On the smoky display pane, I stuck the inscriptions on the foil concerning sockets and knobs, with the backlight they are sufficiently visible. I did not describe the navigation keys because you intuitively know where the top, bottom, left and right are, in the middle OK and this tiny one is a reset.
I do not include the diagram because I don't have it. I often use enclosures from drives to pack my various devices. The photos show the effect of my work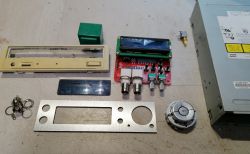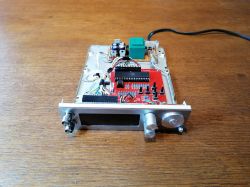 and that's how it found a place on my shelf ;)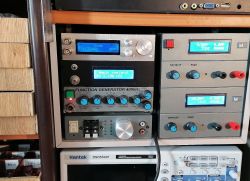 Cool?
Ranking DIY