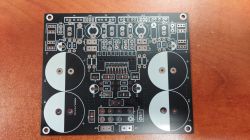 I just thought that if anyone was interested, maybe they would benefit. The test project was created in EASYEDA and it even looks quite good, after Christmas I will start it.
https://easyeda.com/wawrzo1970_7526/lm4702_darlington_mt200
The project itself is available in four versions:
with transistors: sap15, std03, darlingtons in MT 200 and TO3 housings, the last two versions are in the process of being finished, because they require slightly larger PCBs. I encourage you to modify it yourself.
Cool?
Ranking DIY