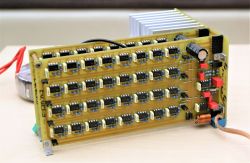 It may seem ridiculous, but you can build an interesting power amplifier from ordinary operational amplifiers (with the right amount of them). :)
From this "miracle" I achieve 2×14 W on a load of 8 ohms. Maybe this value is not shocking, but considering what we get it from, it's probably not a little bit.
First things first.
This project was created only as an experiment, made out of curiosity.
The source of inspiration for this project was an article by Douglas Self in the Elektor magazine (issues 10 and 11 of 2010). Whereas the design of my headphone amplifier (
link
) served as a fitting for this very crazy project.
However, my project is not an exact copy of the mentioned article. I simplified it a bit in my experiment. I resigned from balanced inputs and the possibility of connecting both channels into a bridge. I made the security system on uPC1237, and the stabilizers on LM338.
I assembled the whole amplifier on three boards. One containing stabilized power supplies, supplying +/-18 V, and a loudspeaker protection system. The other two contain amplifiers for each channel. Each channel contains 4 operational amplifiers in the voltage amplifier part, 64 operational amplifiers connected in parallel working as an output buffer and one op-amp operating in the DC-servo system.
Tile schemes: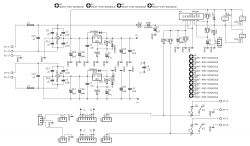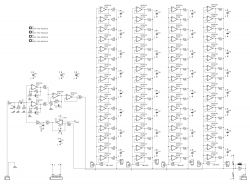 A few photos of the assembled layout: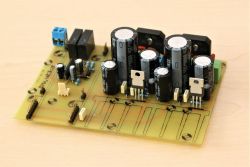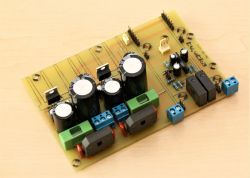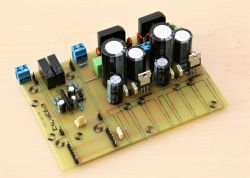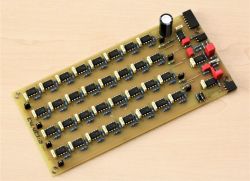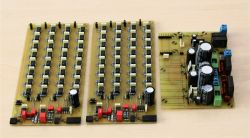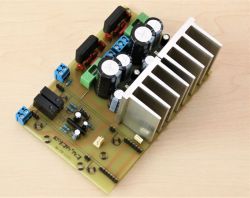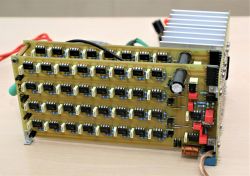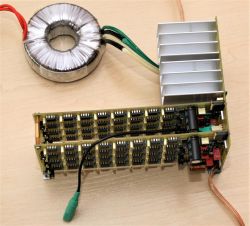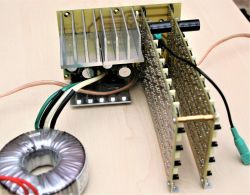 Now maybe a few words about the impressions of the final effects.
Overall, I perceive the amplifier very positively from the listening point of view. The presented sound is quite detailed, clean without coloration. I was surprised by the quality of the bass, but in my opinion it is due to the quality of the power supply (stabilizers).
For now, I do not plan to use this project for a specific purpose, but I also do not rule it out in the future. However, it is quite interesting in terms of sound.
However, if someone wanted to use something like this for a specific purpose, remember to ensure proper cooling. Unfortunately, the stabilizers have to dissipate quite a lot of heat, and even the operational amplifiers themselves heat up to about 45-50 degrees Celsius during such operation.
Something about parameters.
Output power with simultaneous control of both channels -
2×14W
on
8 ohms
.
Other parameters are presented in the table below. Values for three different output powers
1W, 10W and 14W
.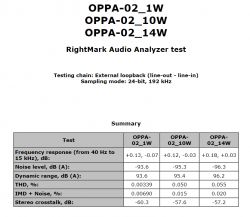 The author of the article mentioned at the beginning achieved slightly different parameters in his experiment: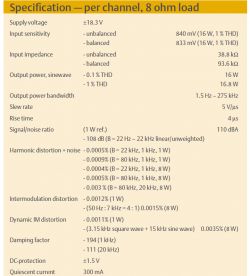 The differences in the obtained parameters could have been influenced by the simplification of my system and the fact that I used the cheapest version of NE5532, because "
P
".
Cool?
Ranking DIY