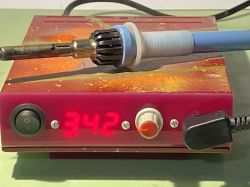 At some point, I decided that using the same equipment by two people is neither a good nor practical idea. There was a need to make a second soldering station (for my son). The purchase was out of the question for ambitious reasons, I did not want to build something more complicated than the absolute minimum. It was supposed to be small, cheap, working.
It fell on a project from the Internet.
https://www.allaboutcircuits.com/projects/do-it-yourself-soldering-station-with-an-atmega8/
by Cezar Chirila.
The station fit in the housing of the CD station, which was lying around the workshop. The front and back plates are L-shaped remnants of plexiglass (the perfect color was chosen), screwed into the housing in the place that used to be occupied by the drive PCB. MeanWell 24V 52W power supply instead of transformer. There is no standby mode - you can add a resistor on the switch (reed switch? miniswitch?) in the WO feedback.
The temperature indication works as it works, it shows something, one of the board versions has a place for inserting a PR in the amplifier coupling, if someone has something, they can calibrate it.
Painting with spray varnishes, with the imposition of subsequent strips of masking tape - to somehow mask the appearance of this beggarly casing. The support is made of another piece of plexiglass bent at an angle of 120 degrees.
Costs: basically the power supply, the rest was in drawers and boxes.
The stock as you can see - typical, Solomon 24V 48W.
That's it. My tiles, the rest according to the link. Sufficient for extensive electronics.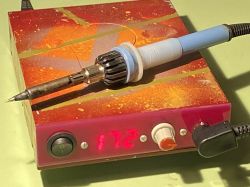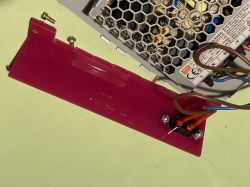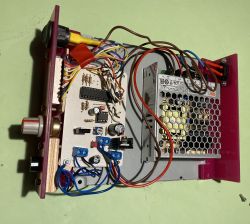 In the archive everything that the author of the project has made available, some test .ino in which I do not remember what I checked and pcb.
Cool?
Ranking DIY