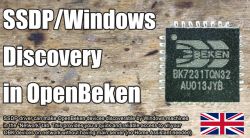 SSDP (Simple Service Discovery Protocol) can be easily enabled on OpenBeken devices to make them discoverable by other machines on your local area network. No central server is needed for this purpose, no MQTT connection and no Home Assistant is required. Enabling SSDP can make your Windows machines detect OBK instances in the "Local Network Places" tab. Here's a step by step guide showing how to enable SSDP on OBK and how it works in practice:
As you can see, SSDP can be very useful, especially if you are just starting the adventure with IoT and have just a few OBK devices. Having all your devices listed on Windows can be very handy.
Thank you for watching. Let us know if you have any questions, we will try our best to help you.
Cool?
Ranking DIY