The question of the 120V 60Hz AC power standard in the USA is a common cause of confusion. First of all, not only the USA uses 120V in its home electrical system. There are also differences in "higher" supply voltages depending on the country, there are standards of 200V, 220V, 230V, 240V, 50Hz / 60Hz.
In addition, almost all buildings in the USA have a 240V AC power connection. 240V AC power is also available on selected sockets in the house. Sockets with available 240V AC supply supply energy to receivers that require more power (washing machines, ovens). Low-power receivers, such as lamps, laptops, chargers, do not need access to 240V sockets and use 120V AC power.
For those surprised by the fact that 240V is available in the 120V system - short explanation: the secondary side of the transformer feeding the building has a tap in the middle of the winding connected to the neutral wire. The neutral conductor is grounded in the fuse box, while the two extreme ends of the winding supply power to the two phase conductors (voltage phases displaced by 180 ° relative to each other). In most cases, one of the phase conductors and the neutral wire are used, supplying 120V AC voltage, which allows for 1800W power consumption (15A 120V). For devices with higher power, both phase wires are used, which allows you to work with a voltage of 240V and power consumption of 3600W (15A 240V). 240V can be supplied to specific sockets or led permanently to the device terminals.
The historical reason for the fact that the USA stayed on 120V is the carbon filament lighting system used in the past. Before the introduction of tungsten filament lighting, a large 120V power supply infrastructure had already been built. 120V AC power remained the standard.
The US has a very large power grid and nothing indicates changes to the current standards.
The UK is one example where the power grid has been rebuilt. Fuses are built into the plugs instead of connecting each socket separately to the switchgear and protection. This is the reason why the nests in the UK are different compared to the rest of Europe.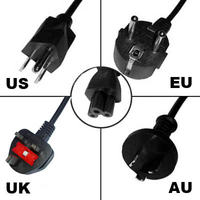 Do we need a uniform global standard for supplying end user loads?
It makes no sense to change everything just so that the same power standard is used everywhere. Such changes would be very costly. Many devices (especially with a switching power supply) accept a voltage range of 220-240V AC, sometimes even 90V-240V. In some devices, you can find switches that allow you to set a specific supply voltage. It makes sense to standardize the exchange of energy between the transmission systems of national energy networks, as well as transmission networks, so that foreign equipment used in the transmission network can be used more easily.
Source:
http://www.electronicproducts.com/Power_Produ...use_220V_like_everyone_else_in_the_world.aspx
Cool?
Ranking DIY