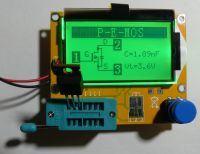 The tester automatically detects the type and layout of the lead leads of the connected component, and displays the measured parameters of the tested part. The tester is powered by 9V battery and during the measurement it draws current
12-15mA
, while in sleep mode it draws current 20nA.
Connect the test components to the three random (or two) available leads, the measurement starts when you press the button. Discharge the tested capacitors before capacity measurement. After unpacking the new tester, carry out the calibration, we do it by connecting the 1-2-3 lead wires with minimal resistance (e. g. with two jumpers made of silver or unnecessary resistor tips). Press the microcircuit button and start calibration, at 38% we will be asked to remove jumpers, at 82% we connect to 1-3 pre-prepared capacitor leads with capacity greater than 100nF.
Type of elements tested and parameters checked:.
capacitors: capacity 25pf-100 000uF, ESR, Vloss
bipolar NPN, PNP transistors: hFE, Uf
MOSFET field resistors N channel, channel P: gateway threshold voltage and capacity
JFET connector field resistors: Vgs, I
Dual diodes and dual diodes: conductive voltage and capacity
Resistors, resistance measurement of two resistors simultaneously: up to 50M?
Inductance 0.01mH-20H and winding resistance
thyristors, triacs
You can find such possibilities in the description, but it is worth checking it yourself.
Since one picture is better than many words, below the animated gif with test results of LEDs, bipolar and field transistors, thyristor, resistors, capacitors and inductance, at the end of this text you will also find video from the device tests.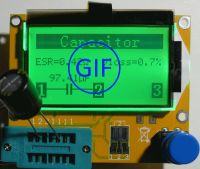 The accuracy of the M328 tester compared to the multimeter is very good.
The first column is informatively the type of element to be tested, the second column is the multimeter measurement result, the third column is the multimeter measurement uncertainty, the fourth column is the tester's measurement result, and the fifth column is the difference between multimeter and tester indication.
component
multimetr
uncertainty +/-
tester
difference
resistor
118
0,54
117,3
0,7
resistor
9,97k
0,04k
10,18k
0,21k (2%)
resistor
99,4k
0,4k
99,12k
0,28k
resistor
1,518M
0,02M
1,521M
0,003M
resistor
10,11M
0,2M
10,17M
0,006M
choke
0,107mH / 0,08
0,012mH / 0,06
0,10mH / 0,7
0,007mH / 0,62 (775%)
choke
5,14mH / 8,44
0,2mH / 0,09
5,23mH / 8,9
0,09mH / 0,46 (5%)
choke
9,83mH / 14,42
0,3mH / 0,12
10.2mH / 15,0
0,37mH / 0,58 (4%)
capacitor
0,28nF
0,03nF
0,277nF
0,003nF
capacitor
4,70nF
0,07nF
4,854nF
0,154nF
capacitor
99,5nF
1,1nF
103nF
3,5nF
capacitor
983nF
0,01nF
1013nF
30nF (3%)
capacitor
100uF
4uF
99,63uF
0,37uF
capacitor
985uF
54uF
968,1uF
16,9uF
diode
0,555V
0,007V
0,683V
0,128V (23%)
diode
0,250V
0,004V
0,339V
0,089V (35%)
Where the difference was at least 10x greater than the measurement uncertainty, I entered the percentage difference from the multimeter and the tester result. The Sanwa PC500a multimeter and the UT58D multimeter were used to measure resistance and capacitance.
An error is visible when measuring low resistance of inductive elements, and when measuring voltage drop on the honey (probably the tester examines diodes with a different current than the multimeter and therefore differences appeared).
I am curious what is the scattering of the parameters and what accuracy the rest of the tester will obtain, if you will carry out the tests with your testers, please write in this topic what results you have achieved. I would be happy to familiarize myself with your opinion about this useful device, which in my opinion will be useful in every workshop.
Cool?
Ranking DIY