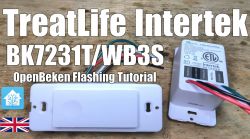 Here's another video guide showing how to regain your privacy and free the Chinese BK7231 WiFi IoT device from the cloud, so it can be paired with Home Assistant, freely scripted and adjusted to your own needs.
This time we'll be programming TreatLife Intertek switch, which was sent to us by a viewer from Canada - thank you! That was a very interesting teardown.
Anyway, here's the video:
One thing to note - the HA pairing was not covered in this video, as it's currently now done with a single click - just fill MQTT credentials and do Automatic Discovery here: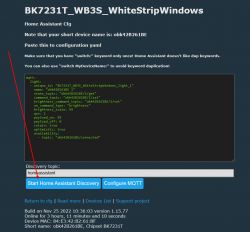 Here are some links mentioned in the video:
Open source firmware for flashing BK7231T/BK7321N and many other platforms
New simple to use open source BK7231 programming tool (it can also automatically do a firmware backup and download latest OBK binary from web)
IoT devices teardowns database (templates, configurations)
Here is also similar teardowns/programming guide article:
Light switch from the USA - Gosund Smart Switch SW5-A-V2.1 - BK7231T
Thank you for watching. If you want more videos like this, please visit our Youtube channel:
https://www.youtube.com/@elektrodacom
If you have any question, please feel free to ask on our forum:
https://www.elektroda.com/rtvforum/forum390.html
Cool?
Ranking DIY