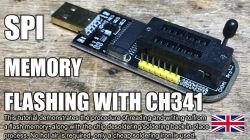 Here's a short 25VQ16ATIG flash memory reading/writing tutorial with CH341 dongle and Neoprogrammer software. Video also includes desoldering/soldering guide for a memory in SOIC/SOP package. The method shown here can be used for any SPI memory, including BIOS from a computer motherboard, but here we will use an IoT device WiFi module as an example. Keep in mind that similar method can be used to swap SPI memory for a larger one for ESP8266 modules.
Before we begin, I'd also like to note that some of CH341 programmer versions might use 5V voltage levels on SPI lines which may not be expected by SPI flash memory chips, so if you want to be on the safe side, consider getting newest CH341 version or doing a 3.3V mod for the older one. We may also cover this topic in a future.
Here's the tutorial:
Please also remember that there is a possibility of flashing without soldering, CH341 comes with a clips, but in some cases it may not be a reliable approach.
Here's a Github repository with CH341 tools:
https://github.com/YTEC-info/CH341A-Softwares
Thank you for watching. If you have any experience with CH341, let us know. You may also visit our
Youtube channel
and watch our other IoT-related videos. See you!
Cool?
Ranking DIY